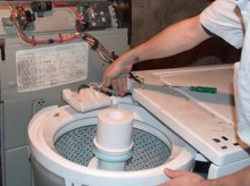 Although they look simple from the outside and perform a seemingly basic task, washing machines are actually very complicated. After you input your desired settings, press the start button, and walk away, dozens of different switches, dials, and timers then begin to work in tandem to change cycles, determine water temperature and level, and spin and agitate the tub according to your specifications. Considering how complicated this dance of mechanics is, it's a wonder that washing machine repairs are not required more often!
Given the sheer intricacy of these machines, it can be difficult to diagnose the source of the problem when your washing machine begins to display flawed performance or fails to operate. In order to definitively determine the reason for the issue and have your washer restored, it is vital to contact a washing machine repair professional. If you live in the Destin area and are interested in affordable, long-lasting washing machine repairs, contact the team at A to Z Appliance Repair at your earliest convenience. Our technicians have been performing washing machine repairs for more than 15 years, and in that time, we've successfully resolved problems of all types and degrees of severity. When it comes to washing machine repair technology, we've taken specific measures to ensure that all of our skills and techniques are constantly up-to-date, which means our team will always be able to offer reliable craftsmanship that is second to none. For individualized attention from washing machine repair technicians who don't believe in cutting corners, call or e-mail us today.
Some of the problems our washer-dryer repair professionals can address include:
Not spinning
Not agitating
Not filling
Not draining
Not starting
Making strange noises
Leaking
Our washing machines repairs are virtually boundless; in fact, the team at A to Z Appliance Repair is able to perform coin-operated washing machine repair with total precision and efficiency. Our versatile technicians also have the skills to work with all major brands, so if you're in need of Maytag washing machine repair or GE washing machine repair, A to Z Appliance Repair is the name to remember in Destin and the surrounding communities.
Washing machine repairs are more than just another part of the job to the team at A to Z Appliance Repair. We understand that the work we do directly affects your daily life, and so we strive to provide you with the finest quality results possible. By using only the best washer-dryer repair techniques and the best tools, we can be sure that every job we complete has the strength to last through your daily demands and serve you well for a long time to come. For comprehensive customer care combined with exceptional workmanship  and affordable prices, trust A to Z Appliance Repair with all of your washer and dryer repair needs! Call or e-mail us today.