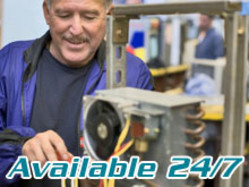 A to Z Appliance Repair is Destin's one-stop shop for virtually all major appliance repair services under the sun. We've been in the trade for over 15 years, which means we know exactly what it takes to provide you with top-notch workmanship each and every time. All of our specialists are fully licensed and insured, and we take great pains to make certain that your ailing appliance is treated with the utmost care and respect. Working with unfailing precision and efficiency, we're the local team to call for refrigerator repair, dryer repair, electric water heater repair, and more. We also service floor buffers and the following brands of central vacuum systems: Sanitaire, Brute, Hoover, VacuumFlow, Electrolux, and more.
Boasting the most impressive handiwork and professionalism in the region, A to Z Appliance Repair is capable of providing you with expert workmanship for a variety of appliance repair services, among others. Feel free to contact us for any of the following projects:
Washing machine repair
Dryer repair
Dishwasher repair
Refrigerator repair
Freezer repair
Ice maker repair
Wine cooler repair
Oven repair
Cooktop and range repair
Hood repair
Garbage disposal repair
Trash compactor repair
Over-the-range microwave repair
Electric water heater repair
Appliance installation
Garage door installation
Offering services for residential units, we're your answer for impeccable results regardless of the specific malfunction. We're even available to install a brand-new appliance when your old unit is beyond repair. With A to Z Appliance Repair on your side, you won't have to struggle with the annoyances of a defective appliance any longer. We'll have your unit fixed up in no time! Call today.
Garbage Disposal Repair
Your garbage disposal is designed to make your life a whole lot easier. Preventing the rancid smell that results from soiled food sitting at the bottom of a trash can, your unit simply grinds up all of your unwanted food scraps and flushes them away. With a fully functional garbage disposal, cleaning up after a meal is simple and hassle-free. But when your unit is no longer able to grind food or is starting to leak water everywhere, you can be left with an even bigger mess than you had to start with. If you're wrangling with a broken garbage disposal, simply call A to Z Appliance Repair and let our specialists take care of it. Our garbage disposal repair services are some of the most reliable in the area, so don't put it off for one more day!
Microwave Repair
At A to Z Appliance Repair, our technicians are also available to perform microwave repair for over-the-range units that are experiencing difficulties. Whether your microwave tray has stopped rotating or the whole unit is making far too much noise, just pick up the phone and call our team of experts for the microwave repair you need. Fixing an over-the-range unit is fairly complicated, due to its specific placement and wiring, which is why it is so critical that you get the help of a professional. We'll have you back to reheating meals and cooking instant oatmeal in no time!
Fantastic Warranties
As part of our dedication to providing flawless customer satisfaction, we offer a handful of terrific warranties to make sure you get the most out of your investment in us. When you hire A to Z Appliance Repair for refrigerator repair, dryer repair, and more, your service will be backed by a one-year warranty on parts. We also offer an additional warranty on labor, which varies according to the specifics of the job. With our team of professionals on your side, you'll get all of the support and personal attention you deserve.
Service for All Major Brands
As Destin's reigning experts, we're fully equipped to perform appliance repair and installation services on virtually every major make or model in the industry, including:
Asko
Amana
Caloric
Modern Maid
Bosch
Dacor
Electrolux
Emerson
Frigidaire
GE
Gibson
Insinkerator
Jenn-Air
LG
Magic Chef
Maytag
Miele
O'Keefe
Panasonic
Sears
Sub-Zero
Whirlpool
And

many

more!
If a faulty water heater or dishwasher is detracting from your comfort and convenience, don't make your family, your employees, or your customers suffer as a result. Instead, call A to Z Appliance Repair and get to the source of the problem today!